Slide Show Land: Dorothy and Jack

(2 carousels 80 slides each)


This slideshow is titled "Dorothy and Jack" and is edited from a collection of about 600 slides dating from the early 50's until the late 70's taken by an American photographer Dorothy Elizabeth Elsberry.

I purchased them on e-bay in 2001. Assembling the slides I discovered a love story, a relationship that is not in the fresh flush of youth, yet reveals a deep romantic ideal; of old age spent together with the one you love.
One carousel is filled with slides of a dinner table, always set for two where elaborate and hearty meals are displayed - they mark special occassions as the notes on the slides record - St Patricks Day Thanksgiving, Christmas and so on.
The second carousel is filled with images of Jack who was an outdoors man and horse rider, each image seems to depict an idealistic vision of a lone cowboy. The dual projection creates pairs of images; interiors and domestic settings and outdoor heroic male cowboy a distinctly male female version of events. In this collection it was Dorothy who was the photographer and she meticulously wrote exposures and details on every single slide which date from 1940s to the mid 1970's. As she was the photographer she became invisible in the outdoor shots of her husband Jack and from writing on the slides seem to suggest that it may have been Jack who was the 'cook' of their house, further disrupting nostalgic gendered ideals depicted in these images.
Watch Slide Show Land Dorothy and Jack ︎
Slide Show Land Dorothy And Jack
in
An Auto Biography of Elvis Richardson
True Estate Gallery, 22nd May 2018
In this new exhibition of Richardson's solo work, family stories, imagined archives and documentary photography come together across video, installation and sculpture. Imbuing a sense of the artist's self in the retelling through archives, Richardson's work considers her own lineage, domestic spaces and memories through the lens of the found archive.

'An Autobiography of Elvis Richardson' brings together a combination of new and previously exhibited works into the context of True Estate Gallery. Re-shown and developed over the past 10 years, these works explore archives of photography, domesticity, family and womens creative practice through collation and curation. Video works gently meander through intriguing combinations of aesthetically complex and at times precisely shot found imagery to humdrum sounds of a slide machine click or ambient percussive electronica. In re-archiving and combining analogue and digital archives into physical forms, Richardson considers the purpose of creating and maintaining family archives and herstories, and questions through whom these stories are be told.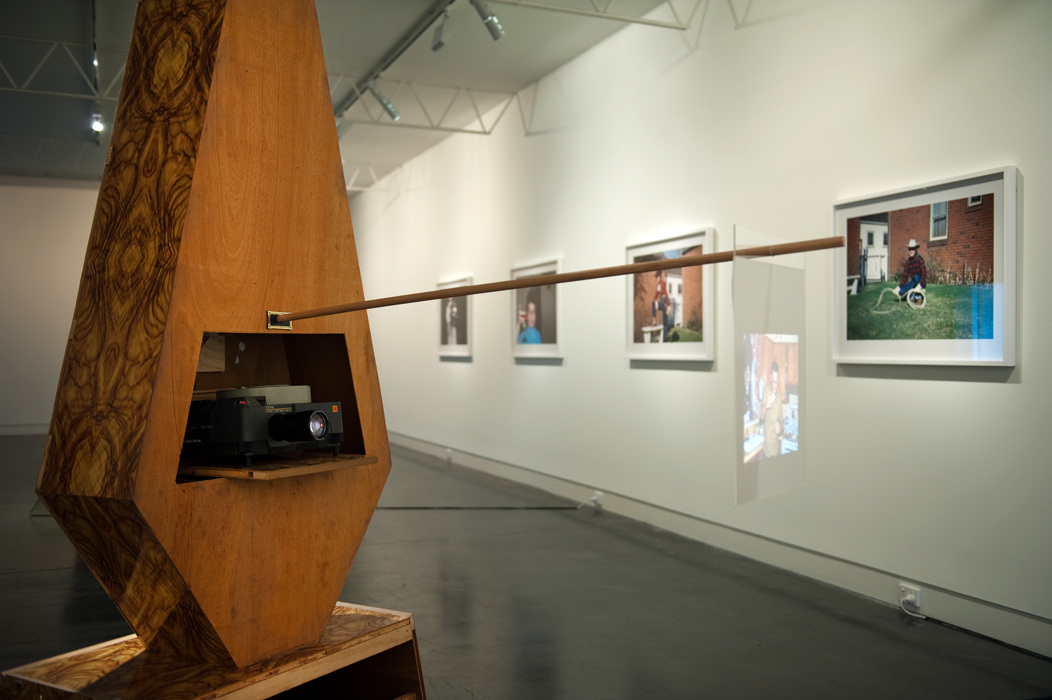 EXHIBITED

Slide Show Land: Dorothy and Jack
has been exhibited as 35mm slide show, a video with narration, and as a series of photographs.
Slide Show Land: Dorothy and Jack edition 1 of video and edition 2 of photographs are in the Artbank collection
︎︎︎ ARTBANK
2006
If you leave me can I come too?
Melancholy and dissociation in australian photomedia practice curated by Bec Dean,
Australian Centre for Photography
, Sydney
2007
Canberra Contemporary Art Space
solo show.
2008
Dream Home
curated by Mary Pridmore, Plimsoll Gallery, Hobart
Catalogue Essay by Stephanie Jones
︎︎︎READ PDF
2009
Photographer Unknown
curated by Kyla McFarlane,
Monash University Museum of Art
2012
Because I did it first
, Hugo Michell Gallery, Adelaide
2013 Nellie Castan Gallery, Melbourne
2014 Substation Art Award 2014
2017 Galerie Pompom, Sydney
2018 True Estate Gallery, Melbourne
---