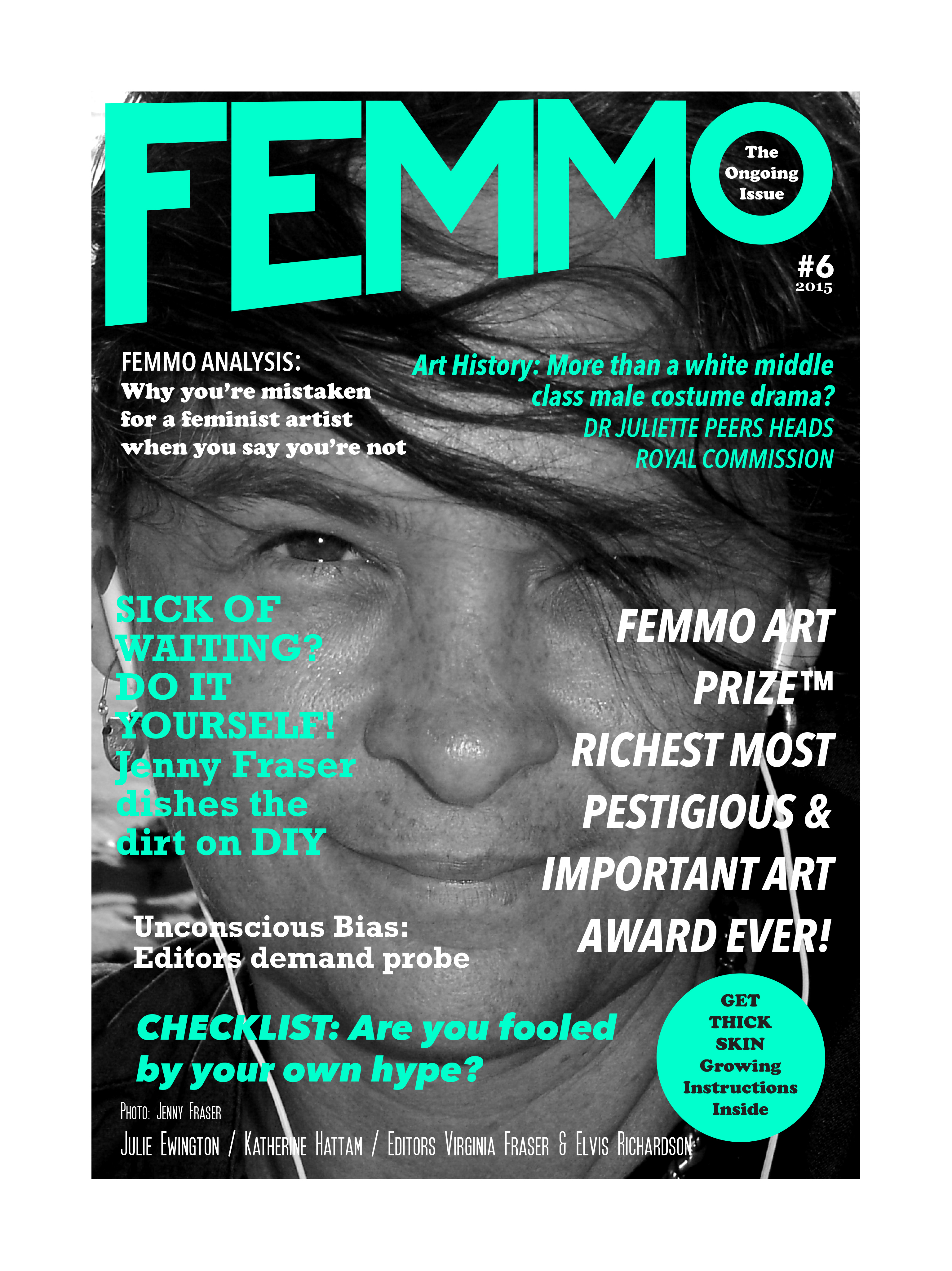 FEMMO Issue 1, 2, 3 (2014) 4, 5, 6 (2015)
Virginia Fraser and Elvis Richardson
screen print on cotton 1400x1100mm

The artists Virginia Fraser and Elvis Richardson have adopted a curatorial pose to collaborate on a series of magazine covers, combining portraiture with attention-seeking headlines for a so-far fictional publication FEMMO™. Where other curators might select, arrange and present tangible and digital objects in galleries, the editors of FEMMO™ have organised indexical text objects on a (very big) page.

FEMMO™ promises articles its producers would like to read. FEMMO™ imagines a world where feminism is central to, and informs, every topic. In particular FEMMO™ has fun with the artworld's gender biased status-quo. The National Library of Australia declined to issue FEMMO™ with an International Standard Serial Number because it had "no content". FEMMO™ disagrees. FEMMO™ is joining the surface litter of Australian art history.


Femmo has been exhibited at The Dolls House (image above)
2017 Unfinished Business ACCA, Melbourne
2016 Vote for me! FORMAT, Adelaide
2016 Fremantle Print Prize (2nd prize), Fremantle Arts Centre
2016 Art for Social Change Incinerator Art Award, Incinerator Gallery, Moonee
Ponds
2015 FEMMO™ solo @ Boxcopy, Brisbane
2015 Fremantle Print Prize (highly
commended), Fremantle Arts Centre
2015 FEMMO™ solo @ Dollhouse, Melbourne
2014 Benglis 73/74 Sutton Project Space, Melbourne curated by Geoff Newton
2014 Curating Feminism Sydney College of the Arts Galleries & Contemporary Art and Feminism conference
RE-RAISING CONCIOUSNESS @ TCB Melbourne