The Found Imagery of Elvis Richardson

Every image has a story



Settlement 2016

Using online real-estate search engines in my own search for a place I could afford to live, I was immediately attracted to the central role that photography played in this process. I started taking screen shots of images that added detail to the language of interiors and lifestyle, suggested stages in which past scenes were enacted now an epilogue, remind me of contemporary photography or painted abstractions and most importantly based on the true stories of other peoples lives.

Settlement is not about kitchen countertops, bathrooms sinks and lounge rooms professionally staged for wide angled perspectives with mood lighting and a fresh coat of paint. Settlement represents the ordinary, the elderly, the low income and the regional whose life-styles are now being re-packaged for investment consumption.



Settlement
Video 9.06m
with sound by James Hayes
2016





84 Page A3 Book Exhibited at Hugo Michell Gallery October 2016

Catalogue Essay by Melinda Rackham
READ PDF


This project was funded by

The Australia Council is the Australian Government's arts funding and advisory body.
#settlement I
nstagram




Settlement In Relief 2020

Hot Flush 2020

Settlement in Relief digital ink jet prints push the barrier affect further, applying the visual illusion of embossing where textures and surfaces of the collected Settlement images depicting domestic interiors recede and advance to create an x-ray image that seems to forensically elicit sensations of touch.

Recognisable shadows, highlights, edges and digital artifacts in the greyscale images document the materiality of the spaces in which we live. To offset this series of photographs Hot Flush a set of cast bronze plaques of a carved relief profile of Queen Elizabeth II familiar to us all on commonwealth coins; show me the money.




Settlement In Relief

Series of 6 images

Digital prints on archival paper

framed600x450 mm

edition of 5 2020

Hot Flush

Bronze, white patina and red acrylic paint

18x13cm edition of 8

2020



THE INVISIBLE HAND 2014

THE INVISIBLE HAND
with sound by James Hayes
HD video 13:41mins 2014 The Invisible Hand has been exhibited in CCP Declares The Social Contract curated by Pippa Milne Centre of Contemporary Photography, Melbourne 2016, and Fontanelle Gallery, Adelaide 2016.

The Invisible Hand 2014

I have an app on my tablet called World Live Cams Pro where the user can view live streams from security cameras located around the world. One of my favourite cameras to visit is located in a Russian village called Beloozerski. The camera is mounted on the side of a tall residential building with 180 degree views over a high rise housing estate situated in a semi-rural area 80 kms from Moscow. The app allows the user to control the high definition camera; pan left and right, up, down as well as zoom controls. I like the location because it is residential and I can view people in their local environment. It's pretty every day stuff, kids, prams, supermarket, notice board, dogs, waiting, playground, talking, looking although people who live here seem to be aware of the camera at times.

Prior to the dissolution of the Soviet Union in 1990 housing in Russia was fully state owned and while rents were very low, apartment sizes were very small and based on an allocated sqm per person, also people didn't have any choice about where they lived. Since the 1990s all Russian's have been given the title of their rental properties for free. Following this process of individual privatisation, the private construction/housing/mortgage market has taken hold. Over the period I was recording my visits to Beloozerski at least three new high rise buildings have been built.

My movement and control of the cameras singular heavenly view found another socio-economic reference in the term The invisible hand conceived of by political economist Adam Smith in 1759. The invisible hand is used today by polictical-economists as a theory of the self regulating behavior of the free market where acting in ones self interest produces socially beneficial results (the term was most used during the greed is good 1980's) The self regulating market is the basic precept of the Laissez-faire economy we are familiar with today. Smith's metaphor proposes that individuals efforts for personal profit will positively effect society as the rich create a trickle down effect through employment and their own consumption creating demand. And the every day consumer exercising thier choices wil have the power to determine the success or failure of a product or service.

Observing Beloozerski Russia from my tablet screen in Melbourne Australia feels distant and insignificant but I find myself feeling a connection to this place. My research identifies that the building right below the camera is an artschool, and the local Artist Union - organisations that were established during the Soviet era and is still operating today.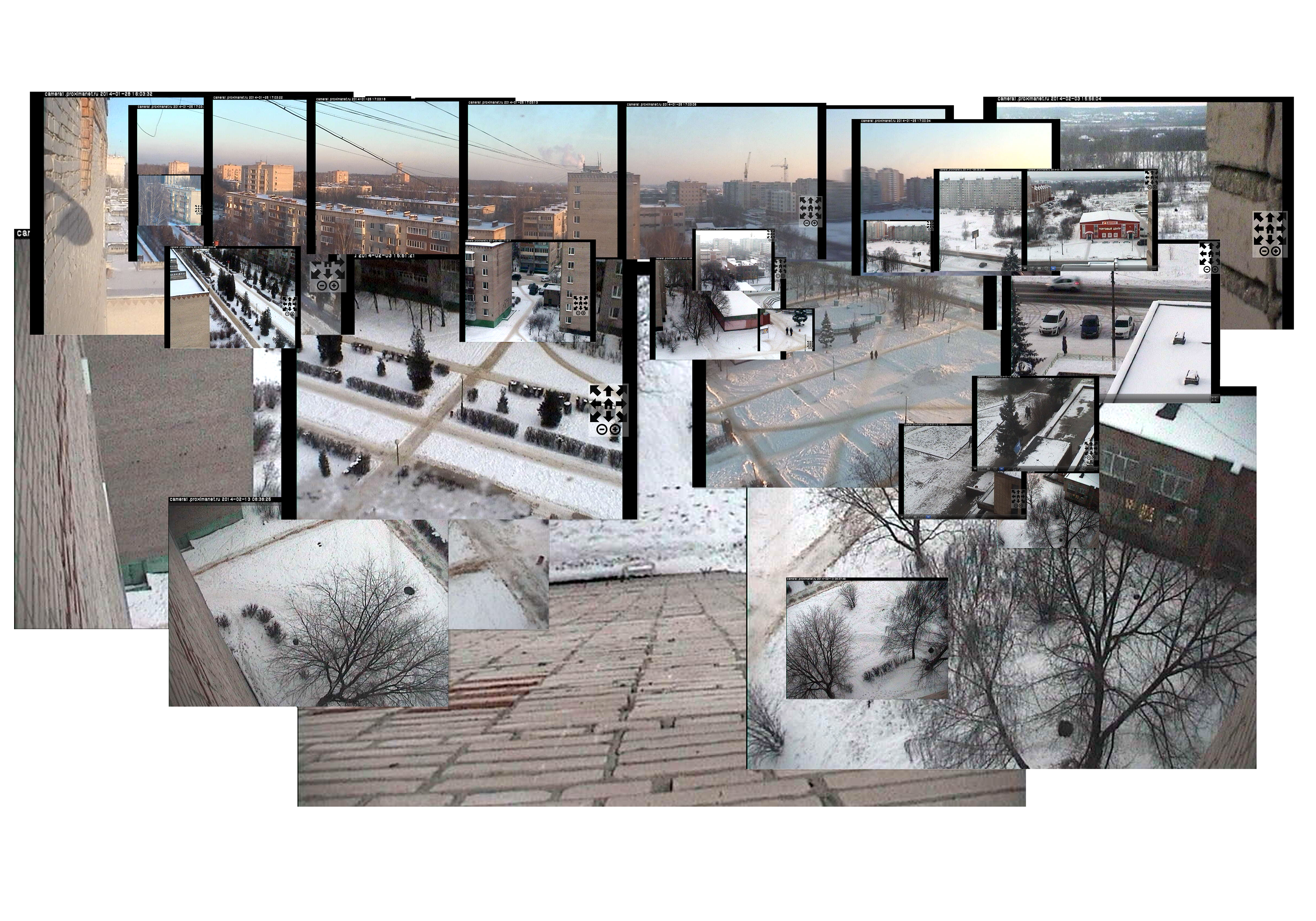 THE INVISIBLE HAND
digital print on rag paper
42x30cm 2014


EPISODE 1: Dear Daddy


Episode 1: Dear Daddy
sound by James Hayes
2 Framed photographs with embedded soundtracks, metal stand, ear phones & cords
2015



EPISODE 1: Dear Daddy 2015

An elongated landscape A3 sized book with a brown faux leather cover. Inside are forty matt black pages crowded with hundreds of black and white photographs fixed with yellowed sticky tape that has damaged every single one.
When I began to remove all the loose photographs and peek behind the others I discovered images of a young girl all have written letters on the back all in Spanish addressed to "a mi querido papi" [My dear Daddy]. They are signed using a number of different names; Betty, Rosita, Cochinita, Teuchi and Hortensia but the images show the same girl.
The last dated photograph from 1961 identifies a place Penonome - a city in Panama. The letters begin in 1956 and the last one is dated 1961 which reads:
"To my daddy remembered your daughter not be forgotten"
Exhibited at Gertrude Contemporary, Octopus: Lost and Profound, curated by Daniel Mudie Cunningham 2015
E
ssay by Daniel Mudie Cunningham PDF
Episode 1 Dear Daddy booklet PDF
SLIDE SHOW LAND - Dorothy and Jack

Slide Show Land: Dorothy and Jack
installation @ Incinerator Gallery

This slideshow is titled "Dorothy and Jack" and is edited from a collection of about 600 slides dating from the early 50's until the late 70's taken by an American photographer Dorothy Elizabeth Elsberry.

I purchased them on e-bay in 2001. Assembling the slides I discovered a love story, a relationship that is not in the fresh flush of youth, yet reveals a deep romantic ideal; of old age spent together with the one you love.



Dorothy and Jack Installation @ Nellie Castan Gallery, Melbourne. 2014 Photos: Tim Gresham. Installation Gallerie Pompom, Sydney 2017 Installation True Estate Gallery, Melbourne 2018

Slide Show Land Dorothy And Jack in An Auto Biography of Elvis Richardson
True Estate Gallery, 22nd May 2018

In this new exhibition of Richardson's solo work, family stories, imagined archives and documentary photography come together across video, installation and sculpture. Imbuing a sense of the artist's self in the retelling through archives, Richardson's work considers her own lineage, domestic spaces and memories through the lens of the found archive.

'An Autobiography of Elvis Richardson' brings together a combination of new and previously exhibited works into the context of True Estate Gallery. Re-shown and developed over the past 10 years, these works explore archives of photography, domesticity, family and womens creative practice through collation and curation. Video works gently meander through intriguing combinations of aesthetically complex and at times precisely shot found imagery to humdrum sounds of a slide machine click or ambient percussive electronica. In re-archiving and combining analogue and digital archives into physical forms, Richardson considers the purpose of creating and maintaining family archives and herstories, and questions through whom these stories are be told.



Slide Show Land: Dorothy and Jack

has been exhibited as 35mm slide show, a video with narration, and as a series of photographs.

2006

If you leave me can I come too?

curated by Bec Dean, Australian Centre for Photography, Sydney

2007 Canberra Contemporary Art Space solo show.

2008

Rooms

curated by Mary Pridmore, Plimsoll Gallery, Hobart
2009
Photographer Unknown
curated by Kyla McFarlane, Monash University Museum of Art
2012
Because I did it first
, Hugo Michell Gallery, Adelaide
2013 Nellie Castan Gallery, Melbourne
2014 Substation Art Award 2014
2017 Galerie Pompom, Sydney
2018 True Estate Gallery, Melbourne


Yesterday, Tomorrow and The End

Mash up videos 2008


Yesterday


Tomorrow


The End